Jun 28, 2020.
Version 20.06.28 is now available for DOWNLOAD!
New
Added Playlist > menu > Add Selected to Slideshow slideshow generator!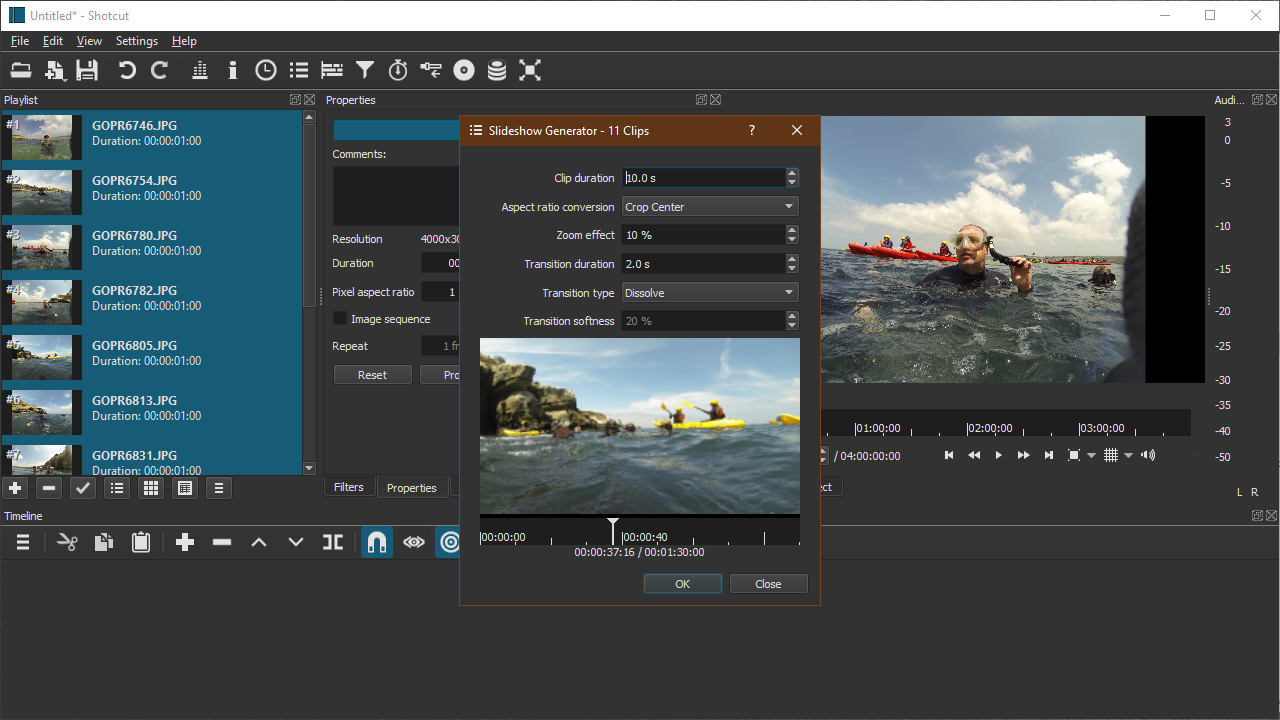 Added Settings > Proxy for videos and images. See the documentation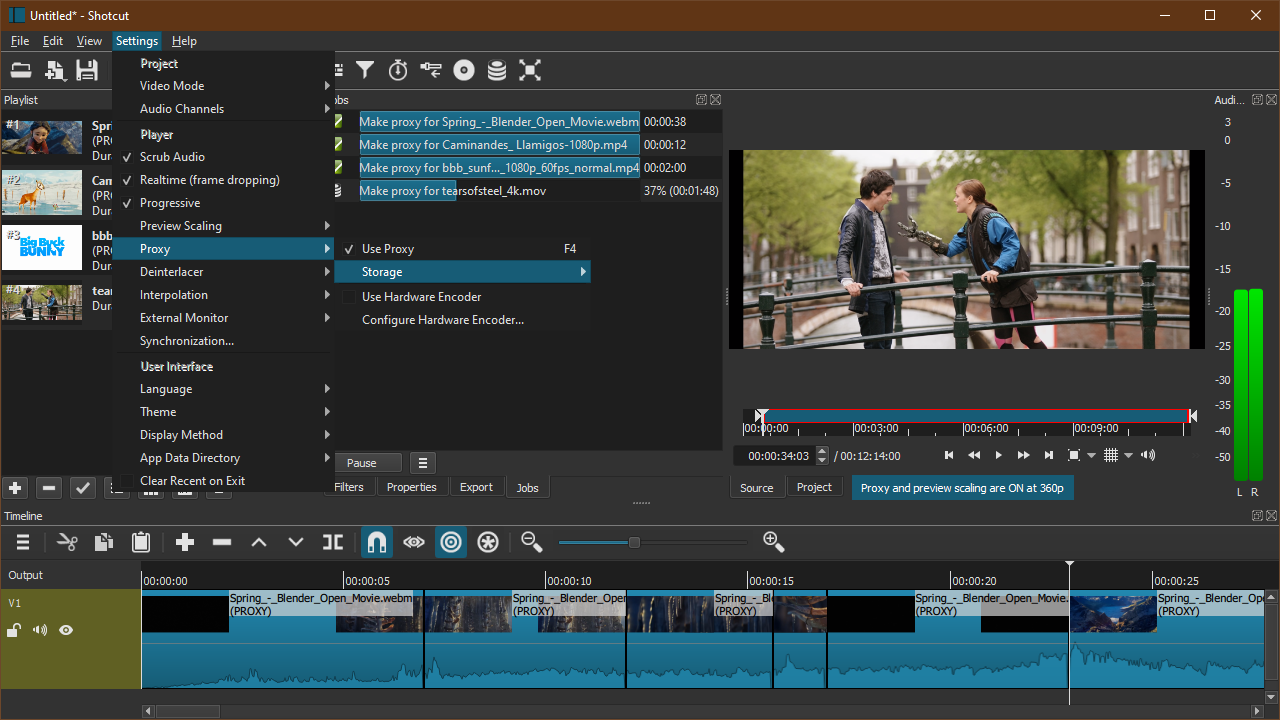 Added bigsh0t 360° video filters (contributed by Leo Sutic):

360: Equirectangular Mask
360: Equirectangular to Rectilinear
360: Hemispherical to Equirectangular
360: Rectilinear to Equirectangular
360: Stabilize
360: Transform

Added Open Other > Blip Flash generator.
Added 2 new Export presets: Slide Deck (H.264) and Slide Deck (HEVC).
Added a Background color parameter to the Rotate and Scale and Size and Position video filters.
Added Help > Topics with keyboard shortcut F1.
Added the ability to drag-n-drop from external file manager (Explorer, Finder) directly to Timeline.
Added Merge with next clip to the timeline clip context menu. This only works for clips that are from the same source and contiguous. This is not clip grouping.
Added returning to the original file if you Reverse a reversed clip.
Added Settings > Synchronization… to calibrate the Shotcut player. This works while something is currently playing to help you calibrate using a known good clip.
Added millisecond Format options to the Timer video filter.
Added Add a keyframe button to the Keyframes panel for all parameters (previously it was missing on some paramters).
Added the Reduce Noise: Wavelet video filter.
Added a context menu (right-click) to the Recent panel with a Remove action.
Added keyboard shortcut ; to toggle a keyframe at the playhead position.
Added keyboard shortcut F2 to rename a clip.
Added keyboard shortcut F3 to search in Recent.
Added keyboard shortcut F11 to toggle fullscreen.
Added View > Enter Full Screen on Windows, but simply maximizes due to issues with popup (dialog) windows not appearing on top.
Added progress dialogs in several places where time consuming activities occur that otherwise block the user interface.
Changes
Renamed Timeline > Master to Output.
Stop selecting Output (formerly Master) by default when opening a project.
Removed Settings > External Monitor > DVEO VidPort.
Export now sets color primaries automatically based on the Video Mode colorspace.
Use Qt's internal image orientation detection instead of libexif.
Upgraded Mesa software OpenGL in Windows build to version 19.2.7.
Upgraded SDL audio output library in Windows build to version 2.0.12.
The keyboard shortcut to open a playlist item is changed to Ctrl+Enter (Cmd+Return on macOS).
Changed the keyboard shortcut to open the web page of keyboard shorcuts to ?.
Change the timeline toolbar icon for Timeline > Split to something more clear and obvious.
Timeline no longer shows thumbnails for video when the track height is at its lowest.
The Timeline toolbar button to toggle Scrub while dragging is now saved to settings.
Export > Video > Deinterlacer is no longer disabled when Scan mode is Interlaced (Anything that causes a change to the vertical resolution of an interlaced source is automatically deinterlaced.)
Deprecated the following video filters. These will be removed in the next version.

Rutt-Etra-Izer
Swirl
Text: 3D
Text: HTML

Added a Detect button to the Use hardware encoder > Configure dialog.
Memory is now released when you choose File > New, File > Close, or Export File. (Previously it would keep most of it for reuse.)
Improved constant quality rate control mode for Intel Quick Sync Video.
Changed Playlist > Sort > By Name to be case insensitive.
Improved the performance of image sequences.
Significantly improved the performance of the automatic image padding.
Show a project's current Video Mode as selected in the Settings menu when opened.
Added a timecode tooltip to the mouse pointer when over the player, Timeline, or Keyframes scrub bars.
Filter VUIs (video user interfaces) are now disabled when the filter is disabled.
Fixes
Fixed Open Other > Audio/Video Device on Windows with special characters in name.
Fixed changing Properties > Audio > Track sometimes does not work.
Improved A/V synchronization on speed-changed clips with Pitch Compensation or using the Pitch audio filter.
Fixed changing Crop: Source video filter, Right parameter on an image with odd width skews the image.
Fixed audio pops and clicks in a few places.
Improve A/V synchronization when resampling audio rate is required.
Fixed incorrect color when using Export > Codec > libx264rgb.
Fixed the clip name after using Properties > Convert or Reverse.
Fixed showing the waveform after undo Detach Audio.
Fixed Audio Tone in Timeline loses focus after change in Properties.
Fixed moving clip sometimes does not adjust background duration.
Fixed Filters, Timeline, and Keyframes responding to touch screen.
Fixed a crash when you use Timeline > Append, Insert, or Overwrite after choosing File > Close or File > New.
Fixed Backspace or Delete key in input fields sometimes delete timeline clip.
Fixed Timeline > Select All incorrectly includes clips on locked tracks.
Fixed track filter out points are changed after reopening a project.
Fixed the default timeline height is too short.
Fixed Properties > Convert ruins filters on clips that were never selected.
Fixed a crash when using Crop: Source > Center bias.
Fixed seeking to the out point in the Source player when you click to seek after the out point.
Fixed setting in > out or out < in in the Source player not reliably updating a playlist clip.
Fixed saving projects with relative paths.
Fixed keyframes for the Level parameter of the Opacity filter.
Fixed drop-framed timecode for 59.94 fps to follow a strict cadence.
Fixed the Reduce Noise: Smart Blur and Reduce Noise: Wavelet video filters to not overwrite the alpha channel.
Fixed the image quality (interpolation) of a Size and Position or Rotate and Scale filter inside of a transition.
Fixed loading image sequences when the sequence number in the file name does not start with 1.
Fixed a crash when using JACK audio and File > Open Other.
Fixed Export > Video not updated when open clip-only project.